The subject of compassion has been on my mind recently, particularly as it shows up in conscious leaders. Much of the traditional leadership field of study has championed the almost heartless resolve of the tough boss in days gone by. Thankfully, those days are fading (still exiting for those slow to change).
Business Insider published "18 Executives Who Lead By Fear" a while back which included current news headliner Harvey Weinstein, Oracle's Larry Ellison (who was reported as "a modern day Genghis Kahn"), a "ruthless" media mogul Rupert Murdock, and a "famously terrifying" Jack Welch. Women were not exempt from the list, the most famous being Martha Stewart showing off her less kind side when not on camera.
Leading by fear is the opposite from Lucira Jane Nebelung's work: Leading as Love. Comparisons to Genghis Kahn, "terrifying" and "ruthless" certainly evoke fear and the above examples don't qualify to be poster-children for leading as love. Connecticut-based organizational consultant, Nebelung (pictured at right) makes the distinction between compassion and empathy: "Empathy is inner, personal conscience and consciousness; compassion is external, societal conscience and consciousness…. Compassion is the outer expression of empathy, it requires action. Compassion is the commitment to and enactment of our accountability to ourselves, to one another and to life."
Merriam-Webster defines compassion as "sympathetic consciousness of others' distress together with a desire to alleviate it." This is completely aligned with conscious leaders being more aware – of themselves and everything else, including everyone with whom they work (all stakeholders including coworkers, customers, vendors, stockholders, community leaders, etc.) and the social systems in which they live and work.
Britain-based Berrett's Values Centre's Seven Levels of Consciousness include compassion at its top level – Level Seven: Service. Here's how they describe it:
Visionary Leader: Service to society, humanity and the planet. Focus on ethics, social responsibility, sustainability, and future generations.
Displays wisdom, compassion and humility.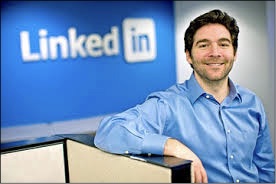 Jeff Weiner (pictured at right), CEO of LinkedIn, shared his insights about compassion a few years   back. He was in the process of drafting a personal vision statement to expand the world's collective wisdom. During dinner with a colleague he was reminded of an old saying: "Wisdom without compassion is ruthlessness, and compassion without wisdom is folly." He writes*, "The line stopped me cold in my tracks. It was so elegant in its simplicity that it required no debate or follow-up. Without any further discussion I said I was amending my initial vision to read 'to expand the world's collective wisdom and compassion.' That objective has influenced every aspect of my work ever since."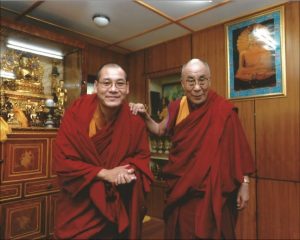 For an Eastern perspective, Tibetan Lama Phakyab Rinpoche (pictured below with His Holiness the Dalai Lama) writes**, "In Tibet we say that, just as a bird cannot fly without both its wings, the mind needs the wings of wisdom and compassion to be able to spread."
Another Eastern perspective from Amit Ray who lives a life dedicated to meditation and yoga in his Himalayan Centre in India: Ray is the author of several books on meditation and other spiritual topics. He writes: "Leadership grows like tall trees. It needs both toughness and flexibility – toughness for accountability – flexibility to adapt changes with a compassionate and caring heart for self and others. A compassionate leader always feels motivated to bring happiness and relieve the suffering of customers, investors, suppliers, employees, government and the communities."
So how important is compassion for someone to be a conscious leader? For me, without compassion the leader has no heart, hence "Wisdom without compassion is ruthlessness." This is exemplified by the previously-mentioned executives who lead from fear. Compassion is the yeast of conscious leadership. We need the wisdom of the other ingredients for our bread but if we wish it to rise we need the yeast – the compassion that brings heart and meaning to conscious leadership.
NOTES:
*Jeff Weiner, LinkedIn: October 15, 2012, "Managing Compassionately"
**Mediation Saved my Life, by Phakyab Rinpoche, New World Library, 2017